They are sheep and goat farmers, production managers, production line operators, etc. They all are part of Bergerie family and contribute to the making of our products. Discover the passion and pride that drives them every day.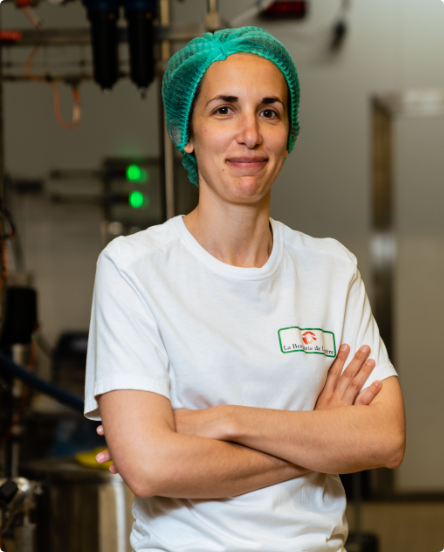 'We are bound by the desire to make good products'
Anaïs, Team manager at Bergerie
Sheep's milk is a family story with me! My father and brother are farmers and have a sheep farm. I know the work of the local farmers and producers by heart and I know how good it is.
As far as I am concerned, I joined Bergerie nine years ago after studying in the dairy industry. I started out as a line operator, then a process pilot and now I'm a team leader in charge of the milk: its treatment, packaging, pasteurization, etc. Simply put, I manage the various recipes of our yoghurts! It's a well-rounded and interesting job, with a focus on both production and teamwork.
We are fortunate to work in a manageably sized unit, almost family-oriented, and to be bound by the desire to make good products. In concrete terms, this means that we pay attention to everything and that we work together to imagine improvements or find solutions to problems. As a team leader, I find it very important to pass on what we know and then to make people aware of the responsibilities. This creates motivation. They get involved in what they do and, in the end, we all work better.
'I love the fact that I can share, learn and test new things'
Since I have been at Bergerie, I have experienced many changes: we have moved premises and launched new products that have been well received by consumers. I was able to obtain a certificate recognised by the dairy industry and meet other team leaders from the company at a seminar in Rennes. I love this energy, the fact that I can share, learn and test new things. This fits in well with my optimistic and persevering nature.
Even if it is demanding, my work instils great pride in me because we produce healthy products, made from local raw materials, which please our customers… and our relatives! Everyone around me loves them, especially my nieces and my little boy who talks about 'mummy's yoghurts'. It's a pleasure to see them all enjoying themselves. This is further proof that we work well, with rigour and high standards.