They are sheep and goat farmers, production managers, production line operators, etc. They are Bergerie farmers, producers or employees Discover the passion and pride that drives them every day.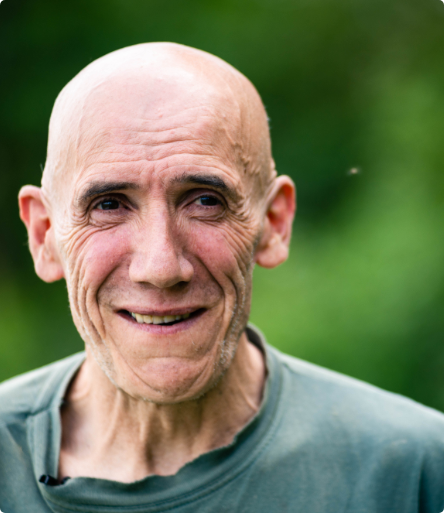 'Going organic was our response as citizens and farmers to the challenges of our time'
Jean-Noël Nurit, sheep farmer
My parents were already famers in the region. Since I was a child, I have always worked the land and with animals. My passion for breeding was born at that time. In 1993, my brother and I took over the farm and for about thirty years, we do our best to take care of our animals and work in the best conditions.
Every day, we are partly veterinarians, partly mechanics and partly business owners. We have to be creative, be informed on innovations and adapt. Days go by and are never the same! That's what I like about it. Each year, our 650 sheep produce 240,000 litres of milk. It is a very demanding job because producing quality milk requires constant attention to the well-being of our animals: protecting them from the heat in summer and draughts in winter, having impeccable milking machines, etc. Maintaining the balance of their diet is particularly important because, like all ruminants, they are animals with a fragile digestion.
'The choice of organic is an open door to the future'
My brother and I are still trying to figure out how to move forward. In 2011, we made the choice to go organic because we saw it as a door onto the future.
As farmers, we are obviously at the mercy of the weather, but in recent years the situation has deteriorated rapidly, with very dry summers, and heat-scorched crops struggling to sustain themselves. So going organic was our response as citizens, farmers and actors in our region. This is the direction that had to be taken both to fight climate change and to go along with consumers who want healthier products. This respect for nature and animals is the same as the respect we put into our work every day.
Today, my brother and I are gradually stepping back from the farm to make room for two of our sons. Before my son Florian joined us, I made him think about it and look elsewhere for what exists so that he could be sure of his decision. Without passion, this job is too demanding and I wanted to be sure that he is as passionate as I am.
Our luck as farmers is that we work as a family. My brother and I have had the privilege of watching our children grow up, of taking them with us, and now of passing on our knowledge to them. This pride is priceless.