They are sheep and goat farmers, production managers, production line operators, etc. They all are part of Bergerie family and contribute to the making of our products. Discover the passion and pride that drives them every day.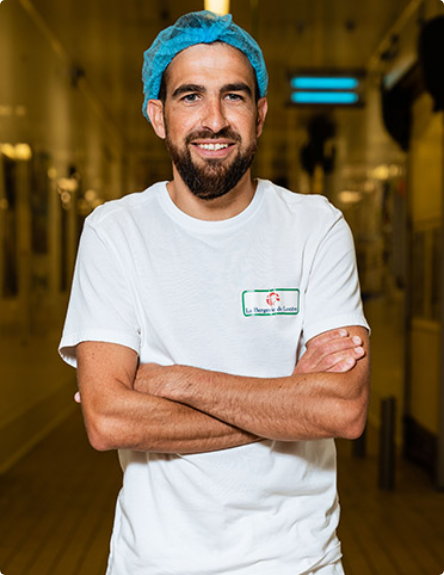 'We are proud to produce healthy, tasty and environmentally friendly products,'
Gautier, Team Leader at Bergerie
I started working for Bergerie almost ten years ago, first as an operator, then as a line operator before becoming a team leader of about ten people three years ago. After five years at the workshop, this change was a great moment and an enormous satisfaction because, initially, I didn't necessarily have the CV for this.
Today in my job, days go by and are never the same! You have to deal with the unexpected, such as the absence of a colleague or a machine breakdown, know how to adapt and react as quickly as possible to limit the impact on production. Knowing the reality of the field helps a lot and the fact that I've been in different positions at Bergerie has allowed me to gain experience that I use all the time.
Being a team leader also involves an administrative part which concerns the management of orders, the production schedule and, naturally, the organization of the personnel. It's a slightly quieter aspect of my job, which requires a medium-term vision. I find it interesting to learn how to plan and organize things.
'It's important to value the voice of operators and line operators'
On a daily basis, I try to be as attentive, caring and respectful as possible. Every morning, I go around the team to check that everyone is doing well and to assess the needs. If there is any problem, we try to find solutions together. People know that I know the business in the workshop and that I know what they are talking about. When I was working on the production line, I liked to be asked my opinion on how to improve the job. I try to do the same. It's important to trust the operators and line operators who spend their days on the machine and give value to their word.
Generally speaking, there is a good understanding at Bergerie We are proud to produce healthy, tasty and environmentally friendly products. Our dairy products are made from high quality raw materials to which nothing is added. As someone with a little boy, I am happy to see him enjoying products that I know are perfectly good for him.